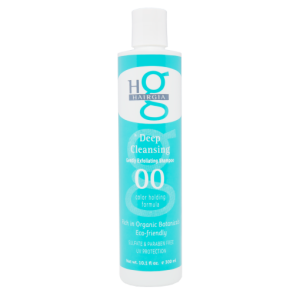 Just in time for summer, we've released a brand new shampoo! It is our Deep Cleansing Shampoo 00, a gentle yet powerful cleansing shampoo specifically formulated to remove buildup from your hair.
Whether you're looking to combat the damaging effects of chlorine on your hair, remove residue left by your styling products, or just get a deep clean from a gentle shampoo, this is the product for you.
Great Shampoo for Swimmers
This hair cleanser is a perfect after swim shampoo designed to remove harmful chlorine from your hair. After swimming, shampoo with the Deep Cleansing Shampoo 00 to keep the chlorine from damaging or discoloring your hair. Use with a HairGia conditioner, such as the Keratin Hydrating Masque, to moisturize your hair and restore a beautiful shine.
Remove Hair Product Buildup
We love to style our hair, but styling products can build up on your hair leaving a residue that diminishes shine and weighs hair down. This new Deep Cleansing Shampoo will remove that hair product residue leaving your hair healthy, shiny, and ready for more styling!
Use Before Chemical Services
If you are going to the salon for a chemical hair service, wash your hair with the Deep Cleansing Shampoo prior to your appointment. This will allow you to remove any lingering product buildup from your hair to ensure better results.
Keep Your Hair Healthy All Summer
Summer can take a toll on your hair. Between styling it for fun summer parties and soaking it in chlorine when taking a dip in the pool, your hair desperately needs a high quality cleansing shampoo to keep it healthy. Our Deep Cleansing Shampoo 00 is formulated with a number of natural botanicals, such as aloe vera, ginseng, and argan oil, to provide you with an effective, Earth-friendly hair care product gentle enough to use everyday. And our products are never tested on animals.
What are you waiting for? Order Deep Cleansing Shampoo 00 online today!