Do you have curly hair? Then you're probably very familiar with struggles such as frizz, breakage, and keeping it in place. With curly hair, it's important to know what products and styles work best for you to keep your mane healthy, but here are some general tips and tricks for frizz-free, beautiful curls using natural hair products:
1. Go Natural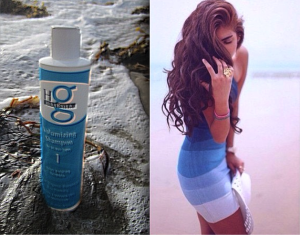 Sulfates are cheap detergents found in many cleaning products including shampoos that create the bubbling effect we associate with cleanliness. Unfortunately, though, sulfates can be rather harsh on the skin and hair and may cause unnecessary damage, which could result in excess dryness, breaking, and frizz.
Using only all-natural ingredients, HairGia's shampoos, conditioners, and styling products do not contain sulfates, rather they're made with essential fatty acids and natural botanicals like aloe vera and chamomile to protect your beautiful locks!
2. Ease Up on the Heat Styling
While we obviously understand the importance of the hair dryer, curling iron, and other essential beauty tools, we also know that the health of our hair is even more important. Everyday blow drying, curling, straightening, etc. is going to cause damage to the hair, which can result in frizz, split ends, and, for our curly haired friends, an out of control mane!
We're not suggesting you give up on heat styling altogether, of course, just make sure you are using high-quality hair products and not over-styling. If you're straightening your naturally curly hair every day, try embracing your curls and simply drying with a diffuser. Tip: blast the hair dryer on cold over your hair for a few seconds at the end of styling to tame frizz, then finish with our Polish Drops for ultimate shine!
3. Use High-Quality Anti-Frizz Hair Products
Excess frizz is probably one of the biggest problems facing those with naturally curly hair, but it doesn't have to be. With regular deep conditioning with a product such as our Keratin Hydrating Masque, you can lock in moisture and hydrate stressed out locks for beautiful, shiny hair. Our all-natural Volume Mousse is perfect for scrunching into towel-dried hair before diffusing, then finish your style with our Polish Drops and a touch of Creative Hair Spray for all-day hold without residue build up!
Order Your All-Natural HairGia Products Online Today!
Make the switch to natural hair products for your curly hair today to keep your hair healthy, shiny, and looking its best everyday! HairGia prides itself on creating only the highest quality, all-natural hair care products for beautiful hair.